Location
Southend-on-Sea Pier
Intent
To record the scenes of Southend-on-Sea Pier. I have recorded Southend-on-Sea Pier at multiple times during this project southend-pier-revisited-project and southend-on-sea-pier-project.
Equipment Used
Canon 5Ds with Sigma 35mm f1.4, Tripod and remote trigger
Methodology
Due the wide dynamic range of the scene between the shadows around the pier and the highlights in the lights and rides it was decided to bracket the exposure and then merge them in pre-post production step to create a High Dynamic Range images that would then be taken into post production.
Images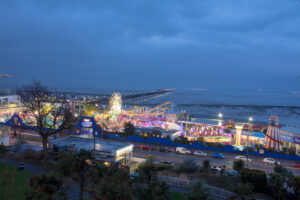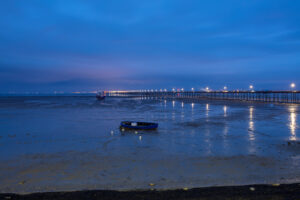 Research References
No additional research material was identified for the shoot.
Assessment of outcome
When leaving for the shoot at Southend-on-Sea Pier I was to not feeling very optimistic about the prospects for a productive shoot as it had started to rain when I left the house and the weather forecast was not exactly positive in terms of the weather on the coast. Having visited the pier multiple times over the last few years I was confident on the locations I would use to record the pier. The first being up on the hill near the Royal Hotel and the second on the sea wall in front of Adventure Island.
The lights from the Adventure Island presented a challenge in terms of dynamic range required to record the complete scene and might require a more comprehensive piece of editing in post production to create the final image if I select that particular location to be part of the final edit for the exhibition. The Image on the sea wall might overall be a better image to use to represent the pier in the final edit.
References