Location
Bradwell Marina
Intent
To record the scenes of Bradwell Creek home to Bradwell Quay Yacht Club .
Equipment Used
Canon 5Ds with Sigma 35mm f1.4, Tripod and remote trigger
Methodology
Due the wide dynamic range of the scenes it was decided to bracket the exposures and then merge them in the pre-post production step to create High Dynamic Range images that would then be taken into post production.
Images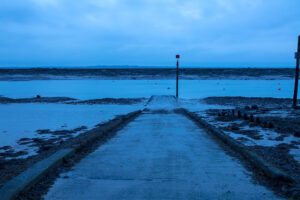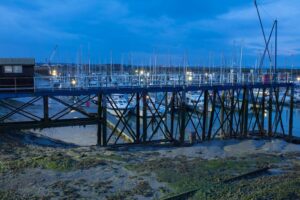 Research References
No additional research material was identified for the shoot.
Assessment of outcome
The Bradwell Creek provided two separate locations for image making and I wanted to capture both sites on this visit with the option to return at a later date if required.
The first location was the Jetty at low tide. The jetty providing the perfect metaphor for a path to follow. The low tide exposes that fact it ends abruptly without which is for me represents some of the the discussions that are taking place on Brexit where a proposed path for the new relationship between the UK and the EU does not result in an agreement. The land in the middle distance representing mainland Europe. Overall the base image is interesting and a candidate for the final edit.
The second location is the Bradwell Sailing Marina. The image is much more complex in terms of messages. Having been shot at low time the boats are contained in bowl with the Jetty in the foreground projecting out above the boats. The jetty provides a way to enter the image and is only just below the horizon line. Its position in the frame means it is also acting as a barrier to the boats in the marina that provide a a may to move about.
The first image I believe fits better with some of the earlier images recorded. Though the second image supported by other images could help tell an interesting aspect to the store of departure.
References