While working on layout for the exhibition I thought it would be appropriate to explore different ways to present my images. During Stella Baraklianou's talk at the Falmouth Face to Face event in February 2018 she showed and installation piece called Sun Lounger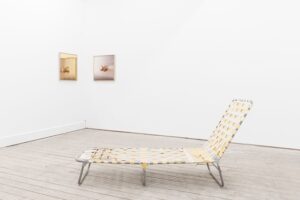 This image made me thinks about deckchairs that we find at the seaside and how I might be able to use them to frame work. I decide to incorporate the concept with another art form the use of panels used for paintings in places of worship. To allow me to experiment with this concept I found some scale deckchairs on Amazon (Amazon.co.uk, 2018). I ordered 5 of these 12th scale deckchairs and created a scale print that I cut into 5 panels to install into my deckchairs in place of the traditional red striped fabric.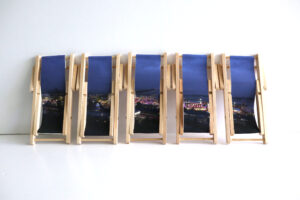 The first version of installation I tried was placing the 5 deckchairs next to each other as as we would expect to find them either on the beach or out on the pier for people to rest on a reflect on the environment around them.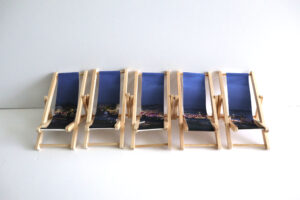 The second configuration is to have the chairs folded up leaning against the wall. This could be viewed as a form that no longer encourages the person to rest or sit and reflect the configuration is encouraging them to depart and move on.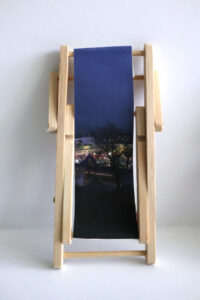 In my models I decided to use rice paper due its lightweight compared with heavier papers that I have been using for test prints. The reason for this decision is I felt it would more accurately reflect how material would hang in the chair if I got the panels printed on fabric for the final installation which would make the chairs functional. Though I am considering printing the panel of paper so that I can have a different texture and due to the size of the panel they will have a natural sag due to the weight of the paper. I think I can print each panel using 17inch paper roll. I will need to under take further experimentation including creating a fabric print to determine the best options for the final pieces.
This piece could be the installation that goes along the back wall of the gallery as a focal piece.
References
Amazon.co.uk. (2018). [online] Available at: https://www.amazon.co.uk/Dolls-House-Miniature-Scale-Striped/dp/B00W2DG1SS/ref=sr_1_1?ie=UTF8&qid=1525709455&sr=8-1&keywords=scale+deckchairs [Accessed 25 March 2018].
Baraklianou, S. (2018). "Sun Lounger" (2017) | Stella Baraklianou | Axisweb. [online] Axisweb. Available at: https://www.axisweb.org/p/stellabaraklianou/workset/235092-sun-lounger-2017/ [Accessed 25 March 2018].