Location
Clacton-on-Sea Pier
Intent
To record the scenes around the landing stage at Clacton-on-Sea Pier during blue hour. The pier had been visited on two previous occasion earlier in the project clacton-pier-project and clacton-on-sea-project
Equipment Used
Canon 5Ds with Sigma 35mm f1.4, Tripod and remote trigger
Methodology
Due the wide dynamic range of the scenes it was decided to bracket the exposures and then merge them in the pre-post production step to create High Dynamic Range images that would then be taken into post production.
Images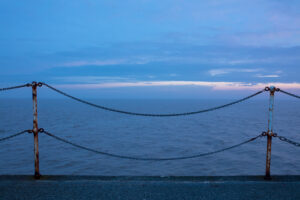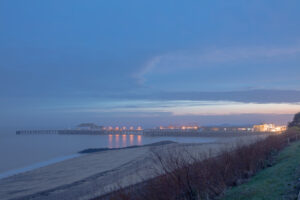 Research References
No additional research material was identified for the shoot.
Assessment of outcome
I selected two different vantage points for the shoot at Clacton-on-Sea pier the first was on the pier looking at sea the image being dominated by the sea and sky though the presence of the chain guard on the pier helps position the shooter n the images. This is different from the apprach taken by Hiroshi Sugimoto in his seascapes where the point of recording is ambiguous.
The second image captures the pier stretching out into the sea with the bank in the foreground leading the gaze towards the lit entrance to the pier and then the reader it taken back to the left of the frame due to the pier. The lights on the pier help and to the overall subdued lighting effect within the image.
References