Location
Tilbury
Intent
This was a return visit to Tilbury a location I photographed part of my original project proposal during the Positions and Practices module. The intention of this trip was to rephotograph the scene using the refined technique that I have developed during this module.
Equipment Used
Canon 5Ds with Sigma 35mm f1.4, Tripod and remote trigger
Methodology
Due the wide dynamic range of the scenes it was decided to bracket the exposures and then merge them in the pre-post production step to create High Dynamic Range images that would then be taken into post production.
Images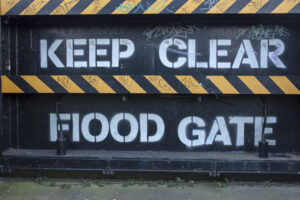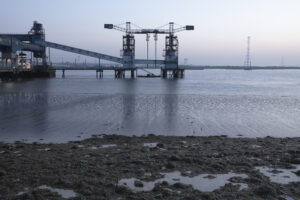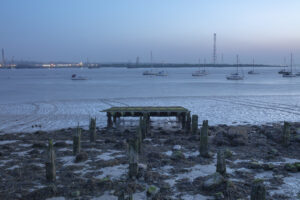 Research References
No additional research material was identified for the shoot.
Assessment of outcome
When I had originally visited Tilbury I had only photographed the Grain Terminal though after leaving the location I regretted taking an image of the Flood Gates that are part of the coastal defences to prevent Tilbury getting flooded. During this visit I made sure I recorded the gates as they act as metaphor for one of the Brexit themes on reducing immigration from Europe has as section of the voting population fear waves of people entering from Europe.
Another purpose of this visit was to record a revised version of the grain terminal as symbol of the port at the the start of my coastal journey from Tilbury to Harwich. When shooting the grain terminal this time a spent more time to experiment with framing and ensure the image contain interest in both the foreground, midground and background. I liked the reflections that were captured in the exposed mud of the Estuary. The seaweed in the foreground creates a barrier while the electricity pylons on the other bank make you think about travelling into the distance while the scale of the tower brings the eye back into the frame.
The final image I selected from the second visit to Tilbury is the rotting pier that in the foreground has a missing deck the in the foreground. The deck can not be used for landings at low tide evident by the exposed silt before you get the the deeper water of the Estuary where the boats are moored. It felt like a metaphor for even if the landing stage was repaired it would still not be long enough to allow you to load a boat except at high tide.
Overall I feel I have a number of useful images that make starting point for the journey along the Essex coast. There are a number of potential readings that I would take to make the starting point. The Flood Gate and a driver for the electorate voting for Brexit or the Port of Tilbury and is role as one of the key trade gateways with Europe on the Essex Coast.
References