Location
Canvey Island
Intent
Capturing images of the quays at the Liquified Gas Terminal on Canvey Island during blue hour.
Equipment Used
Canon 5Ds with Sigma 35mm f1.4, Tripod and remote trigger
Methodology
Due the wide dynamic range of the scenes it was decided to bracket the exposures and then merge them in the pre-post production step to create High Dynamic Range images that would then be taken into post production.
Images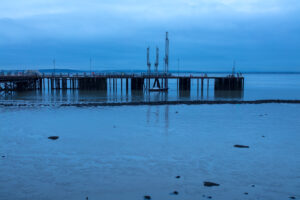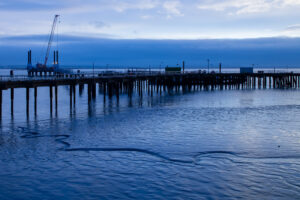 Research References
No additional research material was identified for the shoot.
Assessment of outcome
The intention was to capture images of landing stages along the southern coast line of Canvey Island which provide an important source of fuel that powers industry and keeps our homes warm. Recording the images during the blue hour at low tide for me creates an element of distance between the landing stages and the viewer.
In the first image the pier enters on the left of readers view and exits on the right. The fact the the pier is slightly higher on the left than right helps create a subtle leading line. that takes the eye on a journey through the image. Though they eye is brought back into the frame due to the crane on the left of the image. It might have been desirable to get further back to record all of the structure though that could leave the reader feeling trapped within the frame whereas this framing allows the reader to depart even though other elements encourage them to re-engage with the image.
The second image has the pier entering from the left though in this case the pier does not exit on the right retaining the readers eye within the frame. Though a boat moored to the pier provides a potential mode of departure.
Overall I am happy with the mood created by the light and the position of the landing stage within the frame.
References