I decided that for the London Photo Show that I would exhibit work from my most recent body of work 'Last person to leave turn of the tap' the story of the current state of the Filter House at Sandford Mill. I had been allocated 2.5 metres of wall space for the exhibition I decided based on feed back from the exhibition at Great Baddow Library that I would print the images at a similar size but on Aluminium which had been a medium that had received positive feedback when I used it at a previous exhibition in 2016. The advantage of using a frameless hanging solution meant that it would reduce storage space and make the transportation of the exhibits to the museum much easier than printing similar size images in wooden frames.
Looking at the space I decided that a 2 x 4 layout would work best in terms of number of images that could be exhibited while giving them space to stand on their own as images yet still be viewed as part of a singular body of work.
I started with the 18 images submitted as work in progress at the end of the Strategies and Surface module. I quickly excluded the composite images and the aerial image from the the final selection and then looked at the scale of the subjects in the remaining images with the aim of creating a balanced set of images with a mix of large objects and images showing detail with the filter house.
London-Photo-Show-Image-Selection
The PDF shows the images selected for exhibition for the initial 18.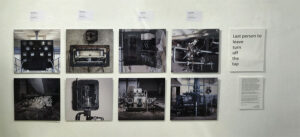 I produced a hanging guide for the exhibition creating a scale model in photoshop to experiment with layout prior to taking the prints to the gallery. I ensured there was sufficient space for the exhibit title plus space for a label to describe the project and my artists statement. The final aspect of the exhibition layout was placing the labels for the different images. I decided to use only 4 labels with each label describing two images to try and keep the overall look of the space clean. I felt I achieved my objectives the the layout below.