The London Art Fair is an annual Art event at the Islington Business Centre. The event covers a broad range of art forms: paintings, sculpture and photography. There is a special section for photography Photo 50. I view this event as one of the first events on the art calendar. This year I was for fortunate enough to get a free ticket from Photoworks to attend the event.
My primary purpose for attending the even is threefold firstly to see how the London Art scene has evolved in the last 12 month, look for artistic inspiration from the work of others and to network with galleries.
Similar to prior years the galleries present are predominately paint and sculpture based galleries. There was only a couple of galleries exhibiting photographic based art including an Austrian Photographers who work was on display at PhotoLondon.
The sculptures on display in many cases were abstract pieces that for mean raise interesting questions of thought process of the sculpture when creating the work and secondly how as a viewer I might interact with the work.
There were a couple of exhibits that stood out for me the first was work by Ardan Ozmenoglu who's work I have referenced earlier in my own research in the use of layers within when transforming the 2D nature of photographs into a 3D physical resolved piece. The discussion with the Greek gallery representing her was interesting as they represent other artists using related techniques to create art pieces. They also explained that Ardan also retains drawing of each individual layer of her pieces allowing broken parts to be replaced if one got broken.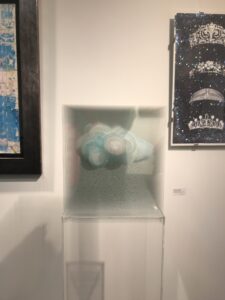 The gallery also provided a contact in Greece who specialise in production of layered artworks.
Another artist that I found interesting was a painter who created images of a future world in oils. However rather than being constrained by a 2D representation they incorporate sculpted forms attached to the canvas to create a 3D dimensional representation. Another area of interest was the fact that the spaceship present in most of the paintings on display was computer generated and projected on to the canvas to allow the artist to create the outline for the spaceship.
Looking at the pricing of the pieces being sold by the galleries indicates that because these items are unique pieces they command a higher price that a photographic image of similar size though without undertaking a comprehensive study eliminating other factors such as artist reputation, subject material, production costs, etc it is difficult to place a scientific value on that ratio, though as a general rule of thumb indicates a ratio between 5:1 and 10:1 in favour of non-photographic art forms.
An interesting find at the exhibition was a demonstration by Samsung of their Art Series TVs that have been built with a dual purpose to display Art images when not being used as a Television. Typically most homes when not watching TV programmes have a void on the wall that over the years has got ever bigger as the cost of large flat screen televisions has become more affordable. These huge black holes have reduce available wall space that people might have traditionally used to hang other art forms. The 4K resolution of these Televisions resulted in an image that appears as a close representation of a printed image though the screen is not able to achieve the breadth of surfaces provided by different paper types though for me it felt like an interesting display form that is worthy of further exploration. I intend to approach Samsung to hopefully secure loan of 1 or 2 televisions for my final exhibition later in the year.
There were a number of other pieces of work that I considered as useful concepts that I might incorporate into future bodies of work.
In summary my visit to the London Art Fair proved very fruitful achieving positive outcomes across all objectives plus an additional avenue of exploration.