The second book review at Magnum Photo was with Hannah Watson of Trolley Books. I explained to Hannah the back story for my photobook and my current design approach for the book. In addition to the 3rd version of my book dummy I had brought the loose images that I printed when working on dummy version 1. We decided to layout the images and look for an alternative sequence.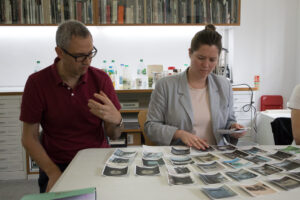 Overall Hannah felt the 3rd Dummy had sufficient images to tell the story of Sandford Mill though she felt that additional archival material would have helped with the story. She liked the overall format of the book and text layout on the front page having the shape of a tap. She considered the images to be strong though she did identify one of the drone images as an image where she suggested a shallower depth of field would have allowed the pipework to stand out from the tree in the background.
The feedback from Hannah gave me confidence that the book could be published with the help of the correct publisher but I would need to source additional archival material to strengthen the narrative. To help develop the story further I would need to execute research into potential sources of archival material for Sandford Mill plus look for a publisher who would be interested in developing the book further for publication.